Media Contact: IEEW
Name: Karel FordTitle:
Mentorship & Programs Coordinator
Phone:
405.943.4464
Email address: kford@ieew.org
2015 PEACE THROUGH BUSINESS(r) Mentor of the Year Announced
Sonu Ratra, AKRAYA, Inc., Chosen by Afghan & Rwandan Women Business Owners
Oklahoma City, OK, September 22, 2015  – For the past nine years, Oklahoma City based non-profit, Institute for Economic Empowerment of Women's (IEEW) PEACE THROUGH BUSINESS® program brings 30 women entrepreneurs from Afghanistan and Rwanda to the United States for global mentorship annually. On behalf of the 500 PEACE THROUGH BUSINESS® alumnae, Dr. Terry Neese, Founder and CEO of IEEW, congratulated Sonu Ratra via conference call to express her sincere appreciation.
Sonu Ratra is the Founder and President of Akraya, Inc., a Santa Clara, California based, multi-award winning provider of IT staffing and consulting services. Sonu has been a mentor and board member for PEACE THROUGH BUSINESS® over the past several years. Women entrepreneurs that have graduated from the PEACE THROUGH BUSINESS® Leadership Development program were asked to nominate their choice for Mentor of the Year for the first time in 2015. The winner was chosen based on number of nominations received and for the inspiration expressed in each submission. A mentor develops a relationship via email with an Afghan or Rwandan student each January and supports the mentee through the 10-week in-country business course work that includes forging a comprehensive business plan. If the student is chosen to continue training during July in the United States via Leadership Development, then the mentor will also host the student in their home town and within her like business.
"Sonu deserves the mentor of the year because she such a wonderful woman who can do whatever it takes to support and promote other women irrespective of where they come from. She commits her time to these women and makes sure they get some better knowledge of doing business. I learnt a lot from her starting with from her own company, Akraya, which is doing very well in Silicon Valley. Sonu is an outstanding woman who works hard to promote women in business through mentoring and supporting in any way possible. She has a big heart and she is very welcoming. She is such an example of women leaders that one would wish to have and learn from in this world. Sonu Ratra deserves this award. – Joy Kabera, 2009 PEACE THROUGH BUSINESS® Graduate from Kigali, Rwanda.
Other PEACE THROUGH BUSINESS® alumnae that nominated Sonu used words such as 'powerful, helpful, supportive and big-hearted.' Dr. Terry Neese shared with Sonu via phone that "these are qualities that reflect the character of our entire mentorship base. We thank you for helping to set the standard for Institute for Economic Empowerment of Women programs.Your contribution to empowering women around the globe is invaluable. It takes all of us to build a more peaceful world based on economic empowerment. This award also reflects the dedication of your staff and the many Silicon Valley organizations that you called on to support your mentorship efforts. I'm proud to have you on our team."
About the Institute for Economic Empowerment of Women
Established in 2006, the Institute for Economic Empowerment of Women, based in Oklahoma City, is a 501(c)3 nonprofit organization that encourages the empowerment of women economically,  socially, and politically by focusing on their education and mentorship. The IEEW strives to help women in the United States and abroad who want to gain entrepreneurial skills that will help them start and grow a business, which will in turn help them to become more active and effective public policy advocates. Working on the forefront of these efforts, the IEEW believes in the power of women as a driving force in the development and stability of businesses in emerging economies. Through its dedication, hard work and PEACE THROUGH BUSINESS
®
program, the IEEW helps provide women with a voice in their fight to establish peace and free market economies. For more information, visit
https://ieew.org/
.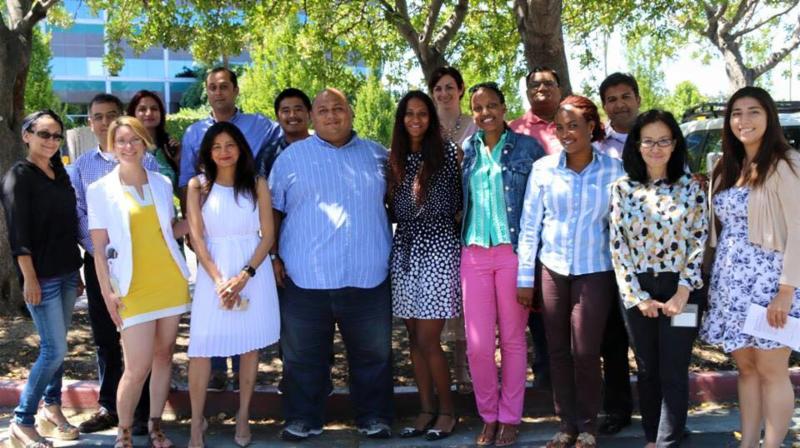 2015 Mentor of the Year Sonu Ratra (3rd from L) & the AKRAYA, Inc. team pictured with PEACE THROUGH BUSINESS(r) mentees Divine Umubyeyi & Dianne Dusaidi from Rwanda (3rd & 4th from R). Photo: July 2015
Institute for Economic Empowerment of Women |
405.943.4474

| kford@ieew.org |www.ieew.org